View the slideshows by clicking
the icons below.

Grand Teton & Yellowstone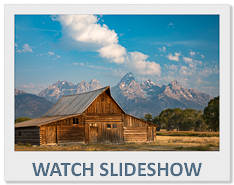 When finished, click your browser's
"Back" button to return here.
Total Solar Eclipse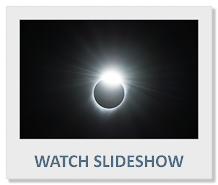 When finished, click your browser's
"Back" button to return here.
Introduction. From August 18 - 23, 2017, I was in Wyoming to participate in a once-in-a-lifetime Joseph Van Os Photo Safaris tour, the Grand Teton Solar Eclipse tour. The tour was led by Todd Pierce and Eric Rock. It was great to work again with Todd, who led my first JVO tour, Colorado Fall Colors (2015), and good to get to know Eric, who I had previously met in Katmai during the Brown Bears of Katmai tour (2012). The purpose of this trip was to enjoy and photograph Grand Teton and Yellowstone National Parks and, on August 21, to photograph the total solar eclipse (a first for me) from a vantage point within the path of totality. During the trip, my group of 13 (including the two tour leaders) were up early for sunrise shoots in Grand Teton NP and out late for sunset shoots. During the afternoons leading up to eclipse day, we had practice/strategy sessions where we fine tuned our shooting plans for the eclipse and practiced those plans so that we could execute them efficiently during the eclipse and the short two minutes of totality. One evening, some of us when out late to shoot the Milky Way (another first for me).
The trip was better than I could have anticipated. Large crowds and traffic congestion were predicted, but we didn't experience that until the day after the eclipse when we drove up to Yellowstone for the day. There we encountered a line about 2 miles long at the south entry to the park and most of our stops in Yellowstone were very, very crowded.
For the eclipse, we ended up at the String Lake picnic area in Grand Teton National Park where the parking lot was only half full (if that much). We had a couple picnic tables in the shade for breakfast and lunch and during the eclipse, other than park rangers and volunteers, my group of 13 were the only ones to be seen anywhere. Although the days leading up to 8/21 had some haze and clouds, for the eclipse we had clear, cloud free skies, perfect for shooting the eclipse. It was quite peaceful and the photography, thanks to our practice/strategy sessions, went well. In fact, during much of the 2 minutes (which seemed more like 30 seconds) of totality, I wasn't even looking at the live view on my camera but was just holding the remote shutter release for a series of 7 exposure brackets. Instead, I was watching the totality event with bare eyes. When I first looked up, I was shocked at what I saw. It looked like a big black hole in the sky with bright white light emanating from all around it. The sight was amazing.
Pre-Eclipse Information. Prior to the eclipse, I posted advance information that included information on:
where to view the eclipse

eclipse safety

photographing the eclipse

resources (information and supplies)
Click here to see the pre-eclipse information web page.
Photo info. There are two photo galleries: one for photography in the national parks and one for the total eclipse. Click the slideshow icons at left to see the photos from the trip. The following equipment was used:
Canon EOS 5D MKIV DSLR camera
Canon EOS 7D MKII DSLR camera
Motorola Z Play (XT1635-01) Smart Phone
Sony DSC-WX50 camera
Canon EF 100-400mm f/4.5-5.6L IS II USM lens
Canon EF 70-200mm f/2.8L IS II USM lens (borrowed, thanks Todd)
Canon EF 24-105mm f/4L IS II USM
Canon EF 16-35mm f/4L IS US
B+W circular polarizing filter
Thousand Oaks Optical S-3500 SolarLite Filter
Really Right Stuff TVC-34L Versa Series 3 Tripod with a BH-40 LR Ballhead
All images were shot Raw (5DMKIV & 7DMKII) or JPG (Motorola and Sony) and processed in Adobe® Photoshop® Lightroom® CC with occasional touch up in Adobe® Photoshop® CC.
Additional photo data is provided below each photo in the slideshow. Enjoy the photos!
Commemorative Solar Eclipse poster. I've created a commemorative poster that shows progression of the eclipse through the end of totality. You can view that poster by clicking the image below (use your browser's back button to return to this page). If you want a larger version of the poster, please send me an email and I'll provide details.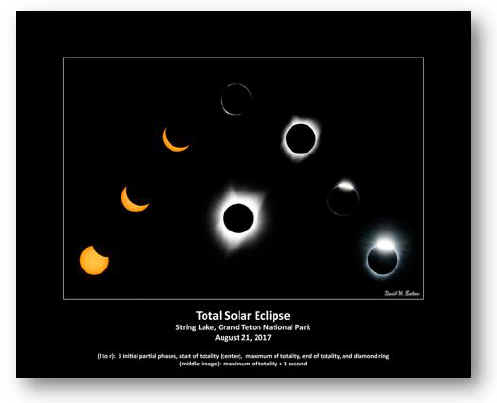 All photos are Copyright © 2017 David W. Boston