View the slideshow by clicking
the icon below.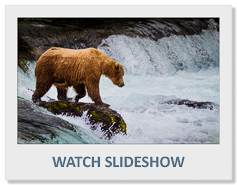 When finished, click your browser's
"Back" button to return here.
Slideshow updated 8/23/2012
(added new photos, rearranged some)
A Video at Brooks Falls
I am no videographer; however, I did shoot a series of video clips at the falls so that you could see the fish jumping and the bears doing some of their thing. I've pieced the clips together into a 55 sec video that you can view on YouTube. To see the video, please click here. You may have to adjust the display quality to get the best picture. 1080p HD is available. Please use the settings icon (a little gear) to make the quality selection.
It was a lot like summer camp, only with bears. That was my impression of my recent trip to Katmai National Park and Preserve (Alaska) to photograph brown bears (a.k.a. grizzlies) fishing for sockeye salmon in the Brooks River and Falls. If you've ever seen a photo or video of salmon jumping a waterfall into the waiting jaws of a bear, that was most likely Brooks Falls.

Why was it like summer camp? It was summer (July 2012). At Brooks Lodge in Katmai, we slept in a barracks building, four to a room (I had an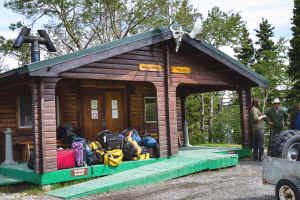 upper bunk). We ate meals from a buffet line in a mess hall (the food was much better than your typical summer camp, and they never served Sloppy Joes). Unlike summer camp, no food was allowed in our cabins (bear safety, you know) ... food was only allowed in the mess hall. We spent all day outdoors, come rain (it did) or shine (it did, too), hiking everywhere we went. We were up early and went to bed late. We joked and kidded around and had a good time. We renewed friendships with old friends and made new friends. I came home with a sore throat (I always came home from summer camp with a sore throat). Although we never sang "Kumbaya", we did hear a mom and her two girls (from Hawaii) in the woods singing "99 Bottles of Beer on the Wall". So it was like summer camp, and why bears? Katmai contains the world's largest protected brown bear population, estimated to number in excess of 2,000. There are normally 50 or more bears in the Brooks Falls vicinity.
We were a group of twelve from Australia, California, Colorado, Massachusetts, New Jersey, New York, Texas, and Washington and we were in Katmai as part of the Joseph Van Os Photo Safaris 2012 Brown Bears of Katmai National Park tour. My good friend, Len Rue, Jr. was the tour leader and Linda, a friend from my 2009 Teton/Yellowstone tour, was also on the tour.
Getting there. Getting to Katmai is not easy. You can't just drive up to a ranger station and pay an entrance fee. After an overnight in Anchorage, we flew on a PenAir SAAB 340 Turboprop plane to King Salmon, AK. At King Salmon, we transferred to the docks of Katmai Air where we and all our belongings were weighed and then assigned to one of several float planes. Linda and I went in the Cessna 207, some of the others in the de Havilland Otter. Upon arrival, we were greeted by a nice ranger, Ellen, who gave us our bear briefing ... how to avoid making the bears mad and getting in trouble with them.
| | |
| --- | --- |
| SAAB 340 | Cessna 207 |
| de Havilland Otter | "The Bridge" |
The bear experience. Along the Brooks River, there are three bear viewing platforms. The first is near the Brooks Camp/Brooks Lodge area, but to get to it (and to anywhere else), you must first cross "the bridge". This is the only bridge in Katmai, and it is subject to frequent closures due to bears in the vicinity. I can remember only one bridge crossing that was not delayed by a bear closure. The lower river platform at the bridge affords a view of mouth of the Brooks River where it enters Naknek Lake. Here you will find bears grazing on grass and fishing, along with human anglers. The other two viewing platforms are along the river and are known as the riffles platform and the falls platform. From Brooks Lodge, the roundtrip to the three platforms is 3 miles and we did that at least twice a day. Some of the walk is along a park service road, but much of it is up a hiking trail, crisscrossed with bear trails. At any point along the way, a bear may enter your path, and if it does, you are expected to leave the trail and let the bear pass.
The falls platform offers viewing immediately beside the falls and it is the most popular and crowded viewing platform. During peak periods, rangers limit access to 40 persons at a time for a viewing period of one hour. After your hour is up, you are free to get on the waiting list for another one hour viewing period.
The riffles platform is so-named because it sits alongside a part of the Brooks River where it riffles (small rapids). The platform is not nearly as crowded as the falls platform and is really a good place to shoot, because many of the bears pass through the area on their way to and from the falls. We spent a lot of time shooting from the riffles platform.
We saw bears standing at the top of the falls trying to catch fish (sockeye salmon), in the rapids below the falls, and all along the river. We came across an amorous couple of bears one morning and some of us (not me) saw a sow with spring (very young) cubs. There was one bear (we called him Boo-Boo) who would just hang out at the edge of the river, looking like he wanted to go in, but never did. There was another one that was aptly named "747". "747" would catch fish just below the falls and then go over to the stiller water near a little island to eat his catch ... always lying with his huge rear end facing us. And there was "Blondie" a cute, but very nervous, little sow that really seemed to like to pose for us. Bears would wander through the lodge area while we were in the mess hall, and often kept us from even making it to the bridge because of their presence on or near the road to the bridge.
Close encounters. At the beginning of our tour, our leader told us to expect at least one close encounter with a bear while in Katmai. I had four. Let me begin by saying that a close encounter is not a threatening encounter, it is just when you and a bear come too close together in a non-ranger controlled experience. The first encounter was on our first trip up to the falls. There were four of us: Len, Linda, Claire, and me. We were walking up the park road and a bear entered the road and came ambling toward us. We all backed off down the road and, eventually, he veered off to the other side of the road and continued on his way.
The second close encounter was in the woods on a walk back from the falls. It was the same party of four and, at one point, Len turned around and warned us that there was a bear behind us. I turned to look, and there he was, about fifteen feet behind us, just following along like one of the group. Although he was very close, we never heard him coming. We got off the trail and up into the woods and finally he meandered on down the trail. A little while later, Linda and I were somewhat ahead of Len and Claire and we looked off to our left and here came another (or maybe the same) bear headed right toward us. Linda and I got off the trail again and he finally wandered back to where he came from.
The last close encounter was the next morning. It had rained all night and I was up and showered. The rest of my cabin mates hadn't made it out of their bunks, yet, and Len asked me to take a look outside to see what the weather was like. I opened the door and there he was, just off the porch grazing on grass. He took no notice of us and soon wandered off down by the river.
During none of these close encounters was a bear ever aggressive or threatening to us. In most cases, they didn't even acknowledge our presence. Due to the frequent contact between humans and bears at Katmai (human habituation) and the plentiful supply of food, Katmai is unique in that the bears and humans can intermingle without confrontation. That is not to say that it's perfectly fine to approach the bears ... it's not. You are expected to maintain a separation of at least 50 yards from any bear.
BBC at work. At the same time we were at Katmai, there was a BBC crew there studying and filming the bears for a coming Nature program that will air next year on BBC One in the UK and on PBS in the USA. One of my favorite Nature series is Bears of the Last Frontier which is narrated by ecologist Chris Morgan and filmed by Joe Pontecorvo. I met Chris at the riffles platform on Monday morning of our trip and ran into him several times on the trail. We also sat and chatted through dinner one evening. It was a real, unexpected treat to meet Chris and to watch the BBC crew at work.
Conclusion. If you want to really want to experience nature, Katmai is perfectly suited. It provides a unique exposure to brown bears unlike anywhere else in the world. The entire experience, managed by Van Os, with services by PenAir, Katmai Air, and Brooks Lodge was one of those once-in-a-lifetime experiences that I'm happy to have had.
Photo info. Click the slideshow icon at left to see the photos from the trip. The following equipment was used:
All images were shot Raw and processed in Adobe® Photoshop® Lightroom® 4.1. Image #43 ("A View up the Brooks River") is a composite of 3 separate exposures (-1, 0, +1 EV) that have been autoblended in Adobe® Photoshop® CS5 to produce the final image.
Additional photo data is provided below each photo in the slideshow. Enjoy the photos!
All photos are Copyright © 2012 David W. Boston